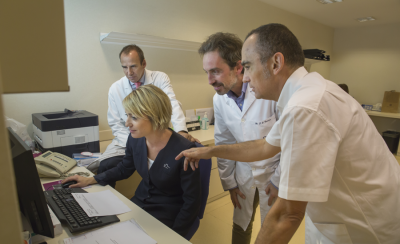 To ensure the best diagnosis and treatment for our oncological patients, the Institut de Dermatologia Garcés has a Multidisciplinary Dermatology-Oncology Committee comprising a dermatologist, an oncologist, a radiation oncologist, a plastic surgeon for cosmetic reconstruction, a nurse for ongoing care and doctors from other specialist fields (for instance, gynecologists, ophthalmologists, ear, nose and throat specialists or maxillofacial specialists) whose contributions depend on the location of the tumor.
The members of the Multidisciplinary Dermatology-Oncology Committee jointly assess all the cases which need this approach to ensure the most accurate diagnosis and the best possible treatment. Moreover, the Committee will assign a leading doctor to you who will accompany you throughout the entire process. You can consult them on any query you may have and they will serve as the point of contact between you and all the professionals involved in your treatment.
Additional Services for Our Derma Plus Patients
At the Institut de Dermatología Garcés we strive to offer our patients the highest level of comfort, attending to their needs and aiming to ensure their visit is completely satisfactory. To achieve this, we have different services available which are designed for our Derma Plus patients and which we place at your disposition.

We can arrange visits to the homes of patients with difficulties in travelling to the clinic.

When necessary, our cases are presented to a committee comprising different specialists in order to ensure the best diagnosis and treatment.

Our Patient Care Service Coordinator, Mari Luz López, will personally attend to any queries you may have.